Imagine this: you know people are visiting your company's website, but you don't know who they are unless they fill out a form. If only there was a tool you could use to see who's making their way to your site so you could focus your efforts on people who are already interested in your products and services.
Enter Nutshell's most recent product update, VisitorIQ. VisitorIQ is a new visitor prospecting tool that allows you to effortlessly track and identify companies visiting your website, even if they aren't filling out forms. This Feature empowers your team to proactively target companies that are interested in you so you can optimize your sales and marketing efforts and make more customers.
Want to know how this feature works and how it can benefit your business? Let's dive in! 
What is VisitorIQ?
VisitorIQ is a prospecting tool within Nutshell that automatically tracks visitors to your website and their company data. Now, you have insight into the visitors attention to your business, allowing you to connect with people who are already curious about your products and services. 
VisitorIQ is powered by Nutshell Analytics, a snippet of code Nutshell customers can embed on their website, allowing Nutshell to track and identify visitors. Nutshell Analytics then enriches the data about the companies your visitors work for, providing information like the number of employees, revenue, contact information, and more. 
What can VisitorIQ do for my team?
VisitorIQ is a powerful tool that helps teams make better, data-driven sales and marketing decisions. Instead of randomly contacting companies and crossing your fingers for a sale, you can see the companies that may be more receptive to your pitch because they're browsing your site, helping you sell more effectively. 
Here are a few of the capabilities available with VisitorIQ:
Seeing all your visitors on a map
VisitorIQ groups your visitors by geographic location and displays the information on our Analytics page so you can visualize where your visitors are located. You can also see the percentage of your visitors located in each state. Hovering over the bar graph brings up the visitor list for each region, giving you a quick view of the visitors in your sales territories. 
Nutshell Analytics is currently focused on the United States, but our team is working to expand our data.

Breaking visitors down by industry 
You can also break down your website visitors by industry. The donut chart and industry list organize visitors into the top 10 industries of the companies that are visiting your site. This feature lets you precisely identify which visitors are most likely to convert. 
VisitorIQ also lets you filter out any industries irrelevant to your business so you can streamline your data and make it more usable for your team. To configure that setting, go to the Settings tab and select the industries you do not wish to track.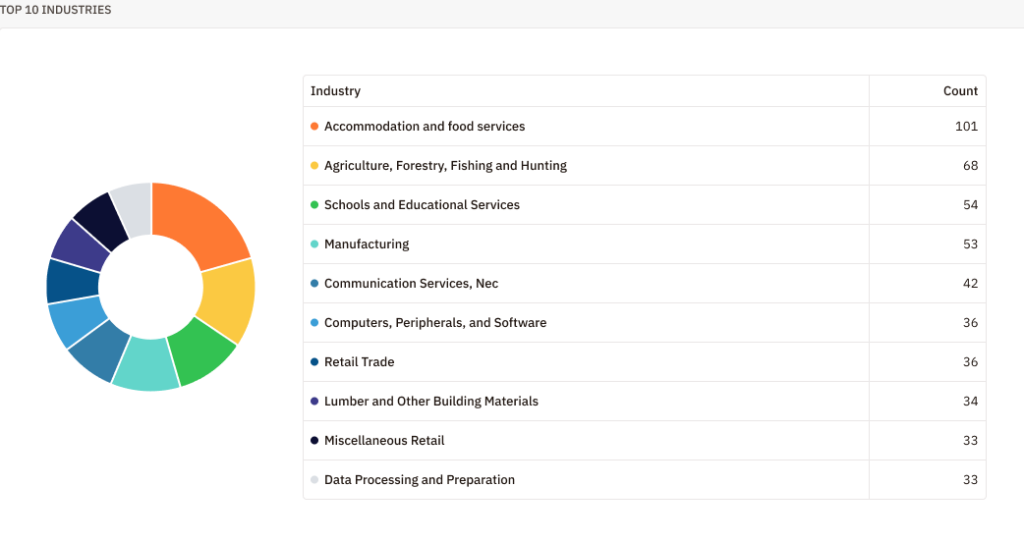 Accessing the Visitor list 
In the Visitors tab, you'll be able to see a list of your website visitors and the following information about each one:
Industry 
Number of employees 
Revenue 
Date created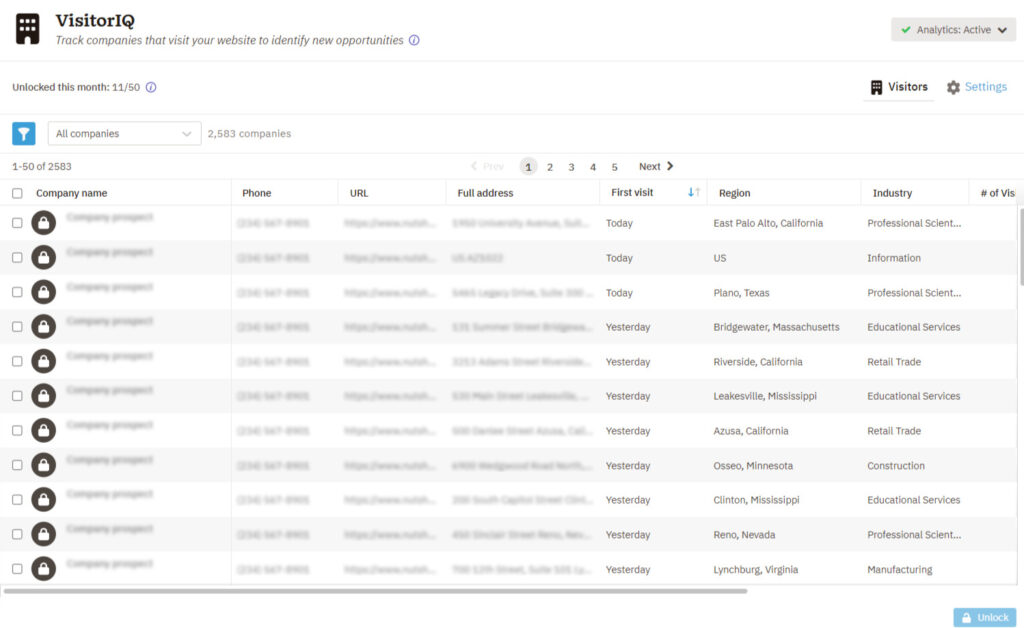 Once you've identified a visitor you want to know more about, you can choose to Unlock them and see even more about their company. Nutshell Foundation customers can unlock five companies per month, while Nutshell Pro customers can unlock up to 50 per month. If you want to see more than 50 of your visitors, we have a subscription plan coming soon to allow you to do so. 
When you Unlock a visitor, you can see their: 
Company name 
Email address 
Phone number 
URL 
Address
Page visits 
Time on site
These additional insights let you identify visitors of potential value you want to target and help your sales team tailor their approach. Once a visitor is unlocked, you can create a new lead in Nutshell and work them through your pipeline!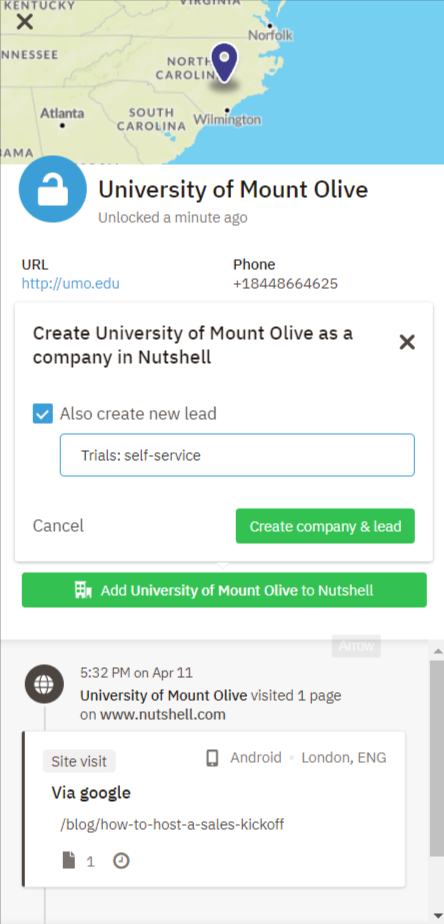 Frequently asked questions 
Want to know more about how VisitorIQ works? This list of frequently asked questions may have the answers you're looking for. And as always, you're welcome to reach out to our support team for additional help. 
How does VisitorIQ track visitors to my site? 
Nutshell Analytics automatically tracks visitors and their companies once you place the code on your website. Nutshell Analytics must be enabled on your site for you to benefit from VisitorIQ. If you're unfamiliar with enabling Nutshell Analytics or need help setting it up, this helpful article shows you where to begin.
Who can benefit from VisitorIQ?
We're glad you asked. VisitorIQ is a beneficial tool for any company that relies on outbound sales or marketing to generate leads. It's especially beneficial if your company sells to other businesses (B2B) and has a lot of website traffic.
How do I see how many unlocks I have? 
At the top of the VisitorIQ table, you'll see how many companies you've unlocked for the current month and how many you have left.
Can I export the Visitor list? 
The ability to export the Visitor list isn't currently available to users. 
When will the paid tiered version of VisitorIQ be available? 
We're planning to launch paid VisitorIQ plans in the spring of 2023. If you're interested in unlocking more visitors, contact our team. 
Do you have an example of why I'd want to use VisitorIQ? 
Say your dream company visits your website but doesn't fill out a lead form or contact you via phone or email—you'll never know that they were there and you might miss the customer of a lifetime!
VisitorIQ allows you to see that the company visited your website. With the information provided by VisitorIQ, you can then plan your cold outreach to help land the "White Whale" you never would've known was swimming around your bait.
Ready to get started with VisitorIQ?
We hope VisitorIQ will be a valuable tool for helping your sales team generate leads more effectively. If you're ready to dive into the insights gathered from VisitorIQ, make sure you have Nutshell Analytics enabled on your website. You can then go to the Visitor list in your Nutshell account to see your visitor data.  
Our team will be glad to help if you need any assistance. Happy Nutshelling!
BACK TO TOP
Source link