12 May, 2023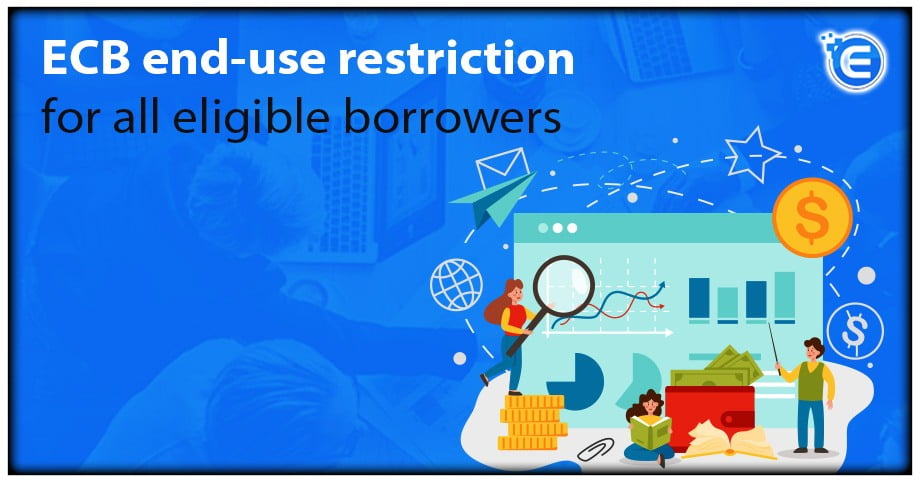 By announcing the Foreign Exchange Management (Borrowing and Lending) Regulations, 2018 ECB (External Commercial Borrowing Regulations), the Reserve Bank of India has simplified and liberalised the previous framework on external commercial borrowings/foreign currency-denominated loans and the rupee-denominated loans with the aim of promoting ease of doing business in India. Foreign Exchange Management (Borrowing or Lending in Foreign Exchange) Regulations, 2000, as well as Foreign Exchange Management (Borrowing or Lending in Rupees) Regulations, 2000 (collectively the "Erstwhile Framework"), have been repealed by the ECB Regulations.
The new framework on ECBs and rupee-denominated loans was put into effect on January 16, 2019. It is made up of the ECB Regulations, RBI circulars dated January 16, 2019, and February 7, 2019, and Master Directions on External Commercial Borrowings, Trade Credits, and Structured Obligations dated March 26, 2019.
The ECB end-use restrictions have been relaxed for all eligible borrowers, including Non-Banking Financial Companies and businesses with stressed loans, by the RBI through the circular. It is essential to draw attention to Master Direction No.5 on the subject, dated March 26, 2019, which states that ECB proceeds cannot be used for specific purposes unless the ECB is obtained from a foreign equity holder for a minimum average maturity period of five years. Additionally, using ECB funds[1] for further lending for similar operations is prohibited. Let us discuss them in detail below.
External Commercial Borrowing 
External Commercial Borrowings (ECB) are business loans obtained by recognised resident entities from eligible non-resident entities that must meet certain requirements, including a minimum term, authorised and prohibited end uses, a maximum all-in-cost cap, etc.
In simple, the loan is given by non-resident lenders to Indian borrowers qualified for External Commercial Borrowing, known as ECB. It can be made in foreign currency or INR. The financing is being used for commercial purposes. The ECB receives funding from outside sources or from any reputable organisation outside of India. The criteria for obtaining External Commercial Borrowing have been simplified, and it is now more common because it is typically available on simple terms.
The RBI controls ECBs because it has the authority to do so under Section 6 of the Foreign Exchange Management Act of 1999. They must meet certain requirements, including a minimum maturity, permitted and prohibited end uses, a maximum all-in-cost ceiling, etc. The end-use provisions have been modified under A.P. (DIR Series) Circular 04 of RBI, dated July 30 2019.
ECB's new framework
By combining the Existing Track I and Track II into one track called "Foreign Currency Denominated ECB," the New ECB Framework rationalises the Old ECB Framework. Each track had several lists of Eligible Borrowers under the Old ECB Framework. All entities qualified to receive FDI are now included on the list of Eligible Borrowers under the New ECB Framework. As a result, start-up businesses, as well as Indian corporations and LLPs operating in industries where FDI via the automatic route is allowed up to 100%, are eligible for ECB.
Additionally, registered entities engaging in microfinance activities, such as registered not-for-profit corporations, registered societies/trusts/cooperatives, and non-government organisations, are also eligible to borrow under this framework. These include Port Trusts, Units in SEZ, SIDBI, and EXIM Bank.
The procedure of Raising the ECB
Below are the procedures for raising ECB as per the master direction on External Commercial Borrowing, Trade credits and Structured Obligations.
If all ECB meet the criteria outlined in this framework, they can all be raised in an automatic route. 
Borrowers who are using the approval method may submit an application in the required format (Form ECB) to the RBI for review through their AD Category I bank. 
These situations will be examined while taking into account the general principles, the macroeconomic environment, and the merits of the particular solutions. 
The Reserve Bank would present ECB suggestions that exceeded a predetermined threshold limit (which was periodically refixed) to the Empowered Committee it had established. 
The Empowered Committee will consist of both internal and external members, and the Reserve Bank will make the final decision in each instance after considering the Empowered Committee's recommendations. 
Entities wishing to raise ECB via the automatic route may submit their request to an AD Category I bank along with a properly filled-out Form ECB.
Eligible borrowers
All organisations are qualified to receive FDI. Also eligible to raise ECB are the following entities: 
Port Trusts; 
Units in Special Economic Zones; 
SIDBI; 
EXIM Bank; and 
Registered Entities Engaged in Microfinance Activities, namely, Registered Not for Profit Companies, Registered Societies/Trusts/Cooperatives, and Registered Non-Governmental Organisations (permitted only to raise INR ECB).
Whether the proposed borrower is authorised to raise ECB was one of the most crucial factors in deciding whether the ECB was a viable alternative for raising offshore debt. Given that the ECB framework also imposed end-use restrictions on the funds obtained through the ECB, this was frequently seen as a significant issue.
Minimum Average Maturity Period (MAMP)
The MAMP for the ECB is three years. Any available call and put options cannot be exercised before the minimum average maturity has been reached. However, the MAMP will be specified therein for the specific categories listed below:
S. No
Category
MAMP
a.
ECB is raised by manufacturers up to USD 50 million, or its equivalent, each fiscal year.
1Year
b.
ECB acquired from foreign equity holders for working capital needs, general corporate needs, or repayment of Rupee loans.
5 Years
c.
ECB is raised for either working capital needs or general business needs or for any of those needs and on-lending by NBFCs.
10 Years
d.
The ECB raised money for: Paying back rupee loans taken out domestically for capital expenditures and On-lending by NBFC for the same purpose.
7 Years 
e.
The ECB raised for paying back rupee loans taken out domestically for other than capital expenditure.

On lending by NBFC for the same purpose for the categories mentioned in (b) to (e).   It is not possible to raise ECB from foreign branches or Indian bank subsidiaries. In all situations, the recommended MAMP must be properly followed.

10 Years
End-use restrictions for Foreign Currency and Indian Rupee
The end-use restrictions have been relaxed in cooperation with the Indian Government in light of stakeholder input and with the goal of further liberalising the ECB framework. Under all of the conditions outlined above in the stipulated minimum average maturity period, provisions for the end-uses must be strictly followed. Both Foreign Currencies ECB and Indian rupee ECB have end-use restrictions that include:
(a) real estate activities, 
(b) capital market investments, 
(c) equity investments, 
(d) repayment of Rupee loans (except if from foreign equity holders),
(e) working capital purposes, and 
(f) general corporate purposes (except if from foreign equity holders).
(g) For lending to entities for the activities mentioned above, except in the case of ECB raised by Non-Banking Financial Companies as given at V(c), V(d) and V(e) of Minimum Average Maturity period.
Notable Issues: The Circular aims to harmonise and simplify the end-use constraints across the several tracks and rupee-denominated bonds by prescribing a single negative or restricted end-use prescription. The constraints that were previously not applicable to Track II and Rupee Denominated Bonds, most notably those regarding the general corporate purpose and working capital purposes, are now relevant to them, which is an unintended consequence of harmonising the end-use restriction. Since general business objectives/working capital purposes were one of the primary justifications for which ECB was raised, this could have significant ramifications for ECBs through Rupee Denominated Bonds.
Conclusion
The ECB Circular aims to change the types of borrowing situations in which borrowers may choose to go the ECB route and thereafter obtain debt financing from international lenders. A single MAMP applicable to foreign currency EBC and Indian rupee ECB is part of the new ECB framework. The distinction between the different tracks was becoming unnecessary. Thus, this is a significant change. 
The ECB Circular's easing of authorised end-uses expresses the RBI's intention to expand Indian firms' access to external debt financing alternatives and lessen their reliance on equity-based financing. However, it won't be clear until after some time has passed whether the regulatory reform serves as a sign of liberalisation.
Read our Article:External Commercial Borrowing (ECB) Reporting Requirements